This Sancocho de Tres Carnes or Tripásico is hearty, comforting and filling. The perfect one pot meal.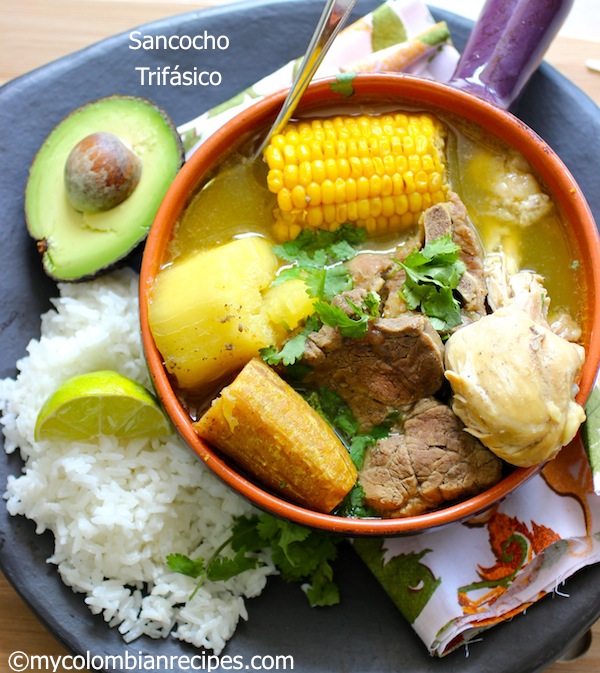 What is Sancocho?
It is basically a very thick soup made with root vegetables and different kinds of meats, in a broth, usually flavored with herbs (cilantro or parsley), combined with achiote, garlic, onion, scallions and bell peppers. It is almost a stew, but still considered a soup. Every recipe you try may be different from the last and unique in its own right.
sancocho is one of the most well known Colombian and Latin American soups of which there are many different varieties. The flavor and content of this dish not only differs from country to country, but also from cook to cook.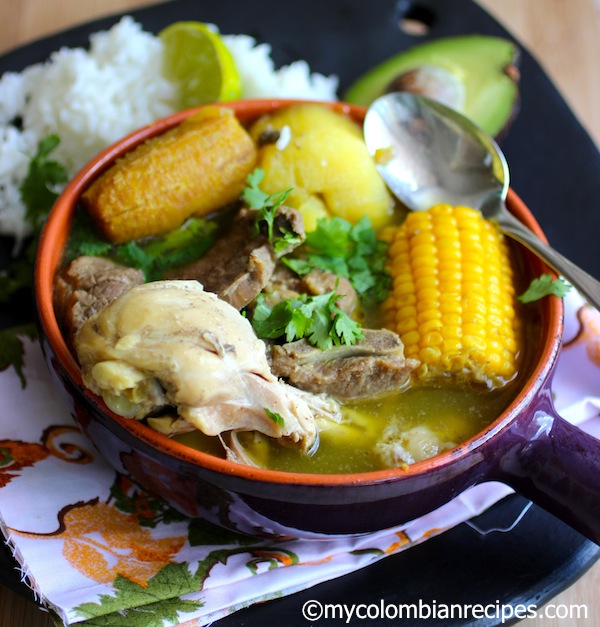 What to Serve with Sancocho
Sancochos in Colombia are always served with avocado or light salad, white rice and Chili pepper (Colombian hot sauce) on the side.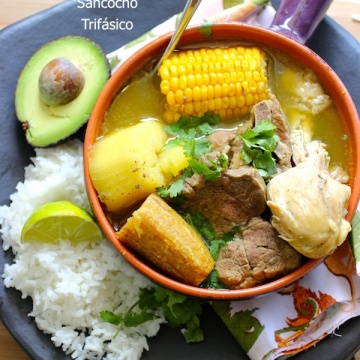 Sancocho Triphasico Recipe (Three Meats Sancocho)
Erica Dinho
Ingredients
1

cup

chopped onions

1

red bell pepper

finely chopped

4

garlic cloves

minced

1

teaspoon

ground cumin

¼

teaspoon

ground achiote

3

ears fresh corn

cut into 3 pieces

12

cups

of water or more if necessary

8

pieces

of chicken

1

pound

of pork meat or pork ribs

1

pound

of beef cut into pieces

2

green plantains

peeled and cut crosswise into 2 inch pieces

4

medium white potatoes

peeled and cut in half

1

pound

frozen or fresh yucca cut into big pieces

¼

cup

chopped fresh cilantro

¼

teaspoon

ground pepper

1

teaspoon

jumped
instructions
Place the onions, pepper, garlic and cumin in the blender with ¼ cup of water.

In a large pot, place the beef, pork, chicken, corn, onion mixture, salt and green plantain. Add the water and bring to a boil, then cover and reduce heat to medium and cook for about 45 minutes.

Add the potatoes and yuca. Continue cooking for 30 more minutes or until the vegetables are fork tender. Stir in the coriander.

Taste and adjust the seasoning. Serve in large soup bowls, dividing the meat and chicken and vegetables evenly.
Nutrition
calories: 733kcalCarbohydrates: 81gProtein: 32gfat: 33gSaturated Fat: 12gPolyunsaturated Fat: 2gMonounsaturated Fat: 14gTrans Fat: 1gCholesterol: 108mgsodium: 543mgpotassium: 1622mgFiber: 7gSugar: 16gVitamin A: 1448UIVitamin C: 81mgcalcium: 82mgIron: 4mg
Colombian cuisine has such a large repertoire of incredible and hearty sancochos, that the variety seems never ending, from traditional seafood sancochos on the coast, to meat and poultry sancochos in the Andean regions. You will find Colombian sancochos made with a huge variety of ingredients, such as pigeon peas, beans, oxtail, pork feet, and even fish.
Este Sancocho Triphasico (Three Meats Sancocho) is an all-time favorite of mine. This popular Colombian dish is often found in Colombian restaurants around the world but nothing compares to the way my grandmother made it.
This is no Monday night, throw-together dinner, sancocho is an event in a bowl! This is the typical Sunday meal in some Colombian homes, perfect for enjoying with your family. This dish warms the soul, heart and body, and is exactly what I expect to taste when I am craving a tasty, comforting, hot soup.